23 Apr

Preview der s.Oliver Herbst- und Winterkollektionen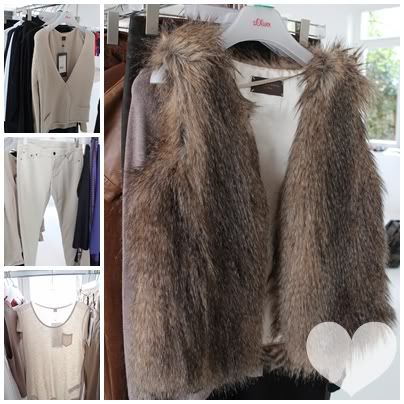 Vor ein paar Tagen hatte ich das Vergnügen mir vorab die kommenden Herbst- und Winterkollektionen von s.Oliver anzuschauen. Ich bin sehr froh über diese Gelegenheit. Was gibt es schöneres als exklusiv zum Durchstöbern von wunderbar sortierten Kleiderständern eingeladen zu werden. Besonders wenn die Atmosphäre so locker und entspannt ist und man mit Leckereien begrüßt wird. Innerhalb eines Labels wie z.B. QS by s.Oliver oder s.Oliver Casual führte mich eine klare Linie von Design zu Design, von etwas mondäneren Teilen über Dirndl bis hin zu jugendlichem Chic.
Mein absoluter Favorit ist die Fellweste von Selection by s.Oliver.
Diese und andere interessante Designs habe ich für euch hier zusammengefasst. So könnt ihr euch ein kleines Bild davon machen, worauf ihr euch freuen könnt. Und bis dahin gibt's ja immer noch die aktuelle
Frühjahrs und Sommerkollektionen
.
English:
A few days ago I had the pleasure to sneak a peak at the upcoming autumn and winter collections of s.Oliver. I am very glad of this opportunity. What could be nicer than being invited exclusively for browsing through wonderfully assorted clothes racks? Especially when the atmosphere is so relaxed. Within a label, such as for example S.Oliver and s.Oliver Casual, a clear line took me from design to design, from something fashionable to a dirndl ending at youthful chic. My absolute favorite is the fur vest of Selection by s.Oliver. Other interesting designs are summarized for you below. So you can get an idea of those things you can look forward to. And until then, there are still the current spring and summer collections.