01 Nov

fashion judy in s.Oliver fashion magazine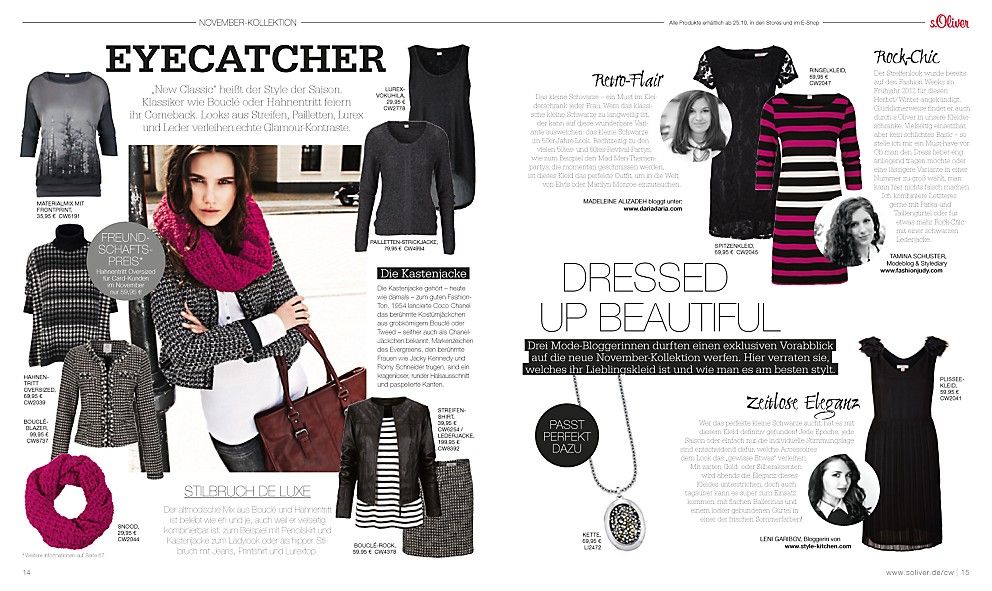 Ein kleiner Text von mir zum Ringelkleid im s.Oliver Magazin.
Auch auf der offiziellen Webseite wurde fashion judy erwähnt. Dazu dieses riesige Foto von mir.
Das bin doch tatsächlich ich! Vor einigen Monaten hatte ich mal wieder Kontakt mit der lieben Jessica von s.Oliver. Sie hat mich gefragt, ob ich Interesse daran hätte, ein Statement zu einem ihrer Kleider der Herbst-/Winterkollektion zu geben. Als Fashion Bloggerin fackelt man nicht lange und schreibt direkt los. Es juckt einfach zu sehr in den Fingern. 🙂 Zu finden ist das neue und erste Magazin von s.Oliver online als auch in allen Geschäften. Kunden bekommen es bei einer Bestellung sogar direkt ins Haus geliefert. Für mich natürlich umso schöner.
Worüber ich mich auch ganz besonders freue, ist die Online-Erwähnung mit riesigem Bild und einem sehr süßen Text dazu, den die Redaktion verfasst hat:
"Tamina Schuster machte das Ringelkleid zu ihrem Must-have. Ein nicht zu schlichtes Basic-Stück, das sich prima durch einen schwarze Lederjacke zum rockig-chicen Look aufpeppen lässt. Die 22 Jahre junge Hamburgerin träumte bereits als kleines Mädchen davon New York zu erobern und viele viele Kleider zu besitzen. In ihrem Modeblog und Stylediary kombiniert sie feminine, spannende Looks aus den altbekannten Modeläden für junge Ladies – erschwinglich, frech und modern!"
English:
No way, that's me! A few months ago, I was again in touch with the lovely Jessica from s.Oliver who asked me whether I would be interested in writing a statement about one of her dresses of their current Fall/Winter collection. As a fashion blogger, you're of course not able to wait a long time but start typing right away. You're simply itching to just do it. 🙂 If you're interested in browsing through the (new and first) magazine of s.Oliver, you'll find it online and/or in all stores. Customers get it as well when they get something delivered. For me, of course, even better.

I'm also really glad about the online editors are mentioning fashion judy and me on their official website. The text is actually really cute:
'Tamina Schuster made the striped dress her must-have. A not too plain basic piece that can really be pepped up with a black leather jacket for the rock chic look. Even as a young girl, 22-year-old Tamina, who lives in Hamburg, was already dreaming of conquering New York and owning lots and lots of clothes. In her fashion blog and style diary she combines feminine, exciting looks from well-known fashion shops for young ladies – affordable, cheeky and trendy!'